Huahai selected in the list of smart pharmaceutical factories in Zhejiang Province 2019
2019-12-18
Economy and Information Technology Department of Zhejiang released the list of digital workshop/smart factory in Zhejiang Province in 2019, and "pharmaceutical smart factory construction project" of Huahai was listed on the list!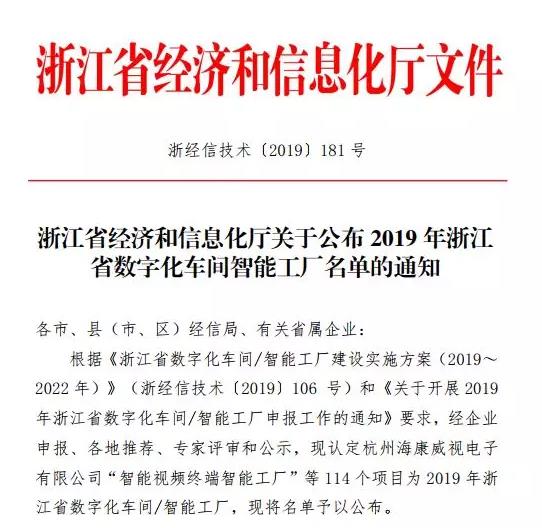 In recent years, Huahai has invested nearly 180 million used for equipment and intelligent building, on this basis, the introduction of international advanced level and meet the requirements of the cGMP SAP, MES system and WMS system, LIMS, etc., and purchase daily office system and other information systems, equipment and facilities to the SAP system overall architecture for information system integration and integrated platform, with MES, WMS, LIMS, and other professional packaging serialization system achieve seamless docking, used in the preparation workshop production management, material management, production process, formula management,electronic batch production record management, planning, scheduling,inspection, quality traceability and other whole-process control are realized,so as to create digital intelligent manufacturing of preparation production and realize efficient collaboration and integration among different system modules.
In the future, Huahai will further improvethe level of enterprise management and digitalization, strengthen the collaborative office capacity of all departments, and realize the electronization of warehouse information, production records, production plans and orders. At the same time, a standardized production management information platform is established by the pharmaceutical intelligent factory, which enables the information interconnection between the internal field control layer and the management layer of the enterprise, further optimizes theresource allocation of the enterprise, improves the production efficiency,guarantees the product quality, and continuously improves the core competitiveness of the company.